Building Washing
Your property's first impression has the power to speak volumes - for better or for worse. Pro-X Pressure Washing ensures that your apartment complex, retail center, school, medical facility, or office building stands out for all the right reasons with our Building Washing service.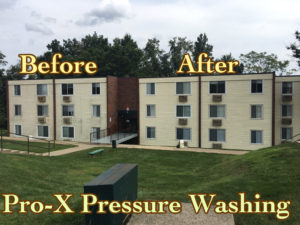 We Help You Underscore Curb Appeal
There's a place for subtlety. But we believe the maintenance of your property isn't one of them. Our goal is to make your spotless building exterior stand out near and far - and we employ a few techniques to achieve this.
It starts with an updated pressure washing system. Our team uses an adapted method of this exterior cleaning standard; it's called soft washing. Soft washing is a professional-grade process that will:
Do away with eyesores: We remove dirt, mold, algae, moss, and other issues that distract from your curb appeal.
Promote a longer-lasting exterior: Our building washing solution protects your exterior - whether it's vinyl, wood, brick, stucco, or composite.
Prevent recurring issues: We care about longevity, and our powerful cleaning products ensure that issues don't make an unwelcome return appearance.
Your Key to A Successful First Impression - that lasts!
Our team is dedicated to the long-term success of your property. So for us, the pathway to exceptional quality is simple. We utilize a service that checks off all the boxes for commercial clients, including:
Soft washing for safety: Our soft washing service doesn't come with the force you get from pressure washing, so your exterior quality will be maintained year after year.
Environmental responsibility: We use biodegradable cleaning products that are earth friendly and compliant with EPA standards.
Convenient scheduling: Our team provides service that won't conflict with your operating hours, so your business stays on track.
Make every customer notice your property for the reasons you want - professionalism, cleanliness, and trustworthiness. And bring out these qualities with a building washing solution from Pro-X Pressure Washing!