Your property's wood surfaces should be a point of pride, not stress. But these surfaces need support to maintain high-quality standards in aesthetics, durability, and longevity.
As your wood restoration experts, Pro-X Pressure Washing delivers the solutions your property needs to meet these three important goals.
Wood Restoration Primes Your Property for a Lifetime of Success
When properly maintained, your wood surfaces should be well-primed to last a lifetime. Our job is to give these areas the TLC they need to thrive, rain or shine, sleet or snow.
Using manufacturer-approved cleaning and restorative processes, Pro-X Pressure Washing primes your exterior to benefit your property all season long. We deliver wood restoration services to all your exterior surfaces, including:
Decks
Fencing
Log homes
Wood retaining walls
Instant Curb Appeal Meets Long-Lasting Benefits
When we approach any wood restoration service, we do so with two objectives in mind: First, to prolong the lifetime of your surfaces. And second, to enhance your at-the-moment curb appeal with aesthetics that will last and last.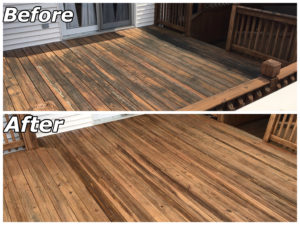 Our wood restoration service achieves both objectives. We deliver a service that will prime your property for success, now and years into the future. Our service includes:
Cleaning: We use a blend of pressure washing and soft washing to safely remove dirt, algae, mold, moss, and other residues from your wood surfaces. Our cleaners also prevent bacteria and fungi from growing back.
Staining: Our staining solution helps your wood surfaces project a polished, clean, and welcoming aesthetic. We will work with you to find a custom shade and sheen that best suits your property.
Sealing: When we seal your wood surfaces, we lock in the quality you want, like a bright aesthetic and a durable surface. But we also lock out the issues that could cause wear and tear to your deck. It's protection at its best.
Your property deserves protection. It deserves curb appeal. And it deserves it all through a simple service that will set your home or business up for long-term success. Give your property the royal treatment with a wood restoration service from Pro-X Pressure Washing!