The Grand Canyon or the local campground. The foothills of the Blue Ridge Mountains or destination unknown. When you have an RV, home is wherever you want it to be.
But every home - whether it has a foundation or wheels beneath it - needs a leg up every once in a while. Pro-X Pressure Washing delivers.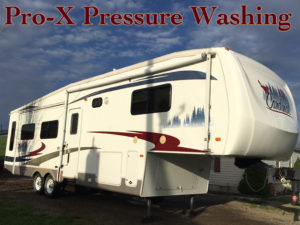 RV Detailing Puts the Best Wheel Forward
Our team is proud to bring expertise to your RV cleaning needs. Whether you drive your vehicle on highways or country lanes, one thing is certain: it can take a beating.
We respond with a professional-grade cleaning and detailing service that protects the longevity of your vehicle, its shine, and its functionality. Our process includes:
Exterior washing: We remove insects, dirt, dust, and other contaminants that are bringing your exterior down
Polishing: We polish your hubs, bumpers, and chrome detailing to preserve the shine
Window cleaning: We clean every window and mirror to ensure that it's spotless
Sealing: We always recommend a sealant solution to lock in the quality
With our comprehensive RV cleaning solution, your camper or mobile home is well-prepared to put its best wheel forward every time it hits the road.
The Benefits of Your RV Cleaning Service
We treat an RV like it's a home. It isn't a stretch, after all - that's exactly what they are. When you receive an RV cleaning service from the Pro-X Pressure Washing, you can expect:
A shining first impression: We make the exterior gleam, from hubcap to roof
Better fuel efficiency: Our process removes grit and dirt that compromise efficiency
Vehicle resilience: We prevent deteriorating agents from bringing your RV down, so it's ready to last
Whether you're selling RVs to soon-to-be happy mobile home owners or are an RV owner in need of some curb appeal, the professionals at Pro-X Pressure Washing are here to help.