Your property's special highlights should shine - not shy away from the limelight. Pro-X Pressure Washing delivers a comprehensive pressure washing and surface cleaning solution to address the curb appeal potential of every corner of your property.
One Stop Shop Surface Cleaning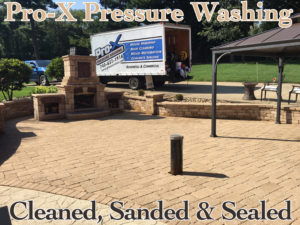 Your property comes with special details that make it unique: a patio for barbecues, pavers and landscape blocks for decorative detail, and entryways to make every entrance a great one.
Pro-X Pressure Washing applies a pressure washing solution that goes tough on stains. We deliver specialized service for:
Pavers
Patios
Landscape blocks
Entryways
Exceptional Cleaning Power, Superior Results
Our job is simple: to make your hardscapes (no matter how dirty, stained, or careworn) shine again. And our process reflects the need for a deep clean. With our pressure washing service, you can expect:
Stain removal: We remove stains and eyesores from a range of imperfections: Irrigation stains, fading, dirt, and more.
Surface restoration: Our cleaning solution can restore your surface to an almost-new shine.
Debris removal: Whether you are dealing with leaves or chewing gum, we strip away the bad to restore the good.
Your patio should be an attraction. Your decorative concrete should inspire admiration, not a grimace. And your entryway should feel like the ultimate call to "home sweet home." With surface cleaning from Pro-X Pressure Washing, you can bring out the best in your property.
Paver,Patio and Landscape Block Cleaning Gallery